Places where king of pop statue are
Michael Jackson, popularly known as the ' KING OF POP' was born in Gary, Indiana and grew up alongside his siblings. Under the tutelage and hard guidance of his father, he would become an international sensation forging a 45 year career. The sheer fact remains that he was one of the most popular performers the world has ever seen. As a consummate showman, he is adored worldwide and has been the inspiration of many musicians and dancers in the entertainment industry.
People like Michael Jackson are so rare and precious. This is the reason, the world still remembers him, his legacy, his music, his philanthropy in good words. Not just his fans, but nation's, politicans, celebrities, athletes, and people from different backgrounds have been found paying tribute to the king of Pop.
Statues are a beautiful yet astonishing form of recognition and memory that we can associate with a person and with this, I am going to let you know about the amazing Statues of Michael Jackson around the the globe located in China, Brazil, Italy, Netherlands, and many other countries.
The 8 Amazing Statues Of Michael Jackson.
1. Guangzhou Sculpture Park.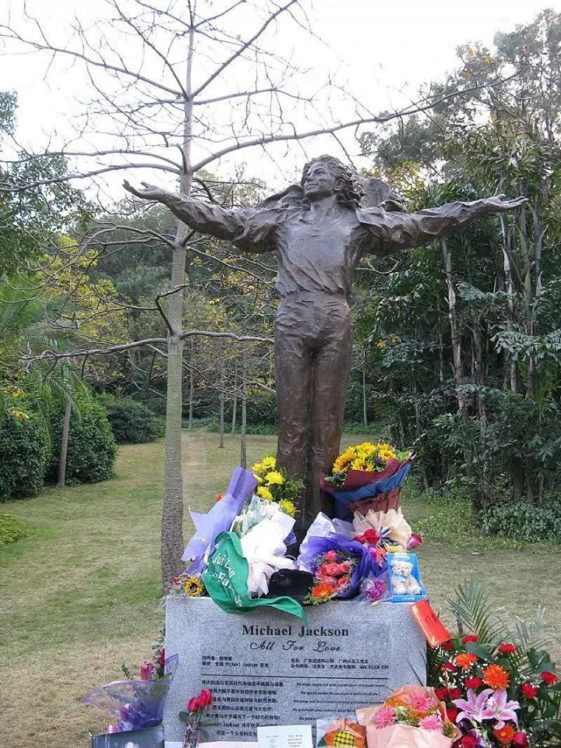 Chinese people showed an immense love to the king of Pop and as a tribute, the public donated $23 ,000 to develop a bronze status at the Guangzhou Sculpture Park located in Guangzhou City of China. People leave flower bouquets as a symbol of respect and love to the king of Pop when they visit the park.
2. Michael with Bubbles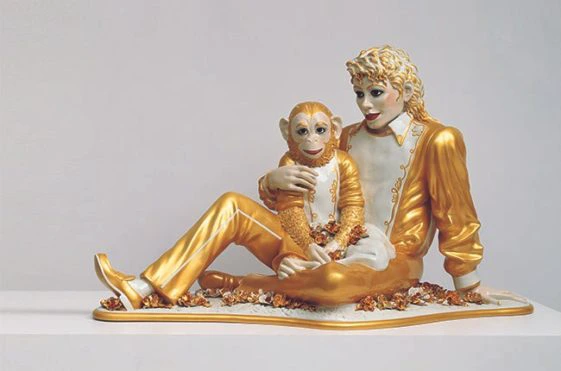 This ' Michael Jackson and Bubbles sculpture was formed in 1988, by an American artist Jeff Koons. The porcelain status is white and golden color portraying Jackson sitting on the floor and Bubbles sitting beside him. Jackson and his pet chimpanzee shared an adorable bond.
3. Italian Amusement Park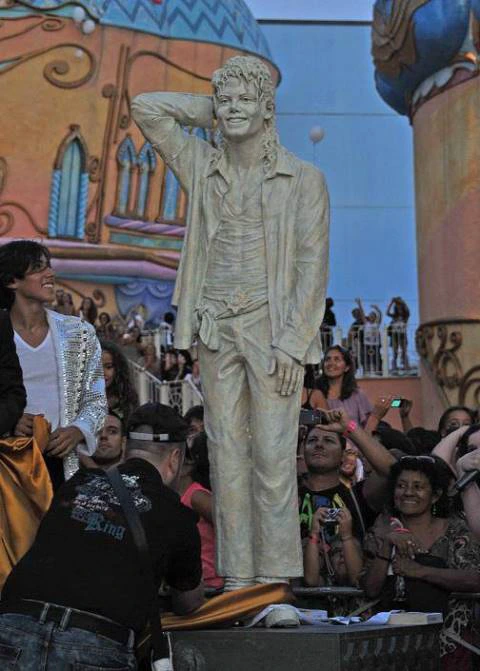 This status can be found at the Magicland Theme Park at Rome, this status is another masterpiece displaying Jackson in a shy yet pleasant mood, with one hand at the back of his head. This status is carved beautiful with fine details on his face and hair.
4. Austrian Park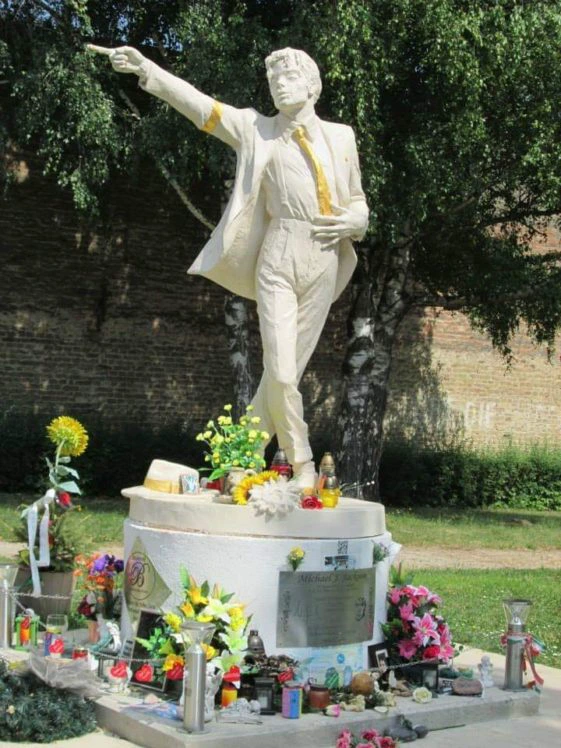 Another beautiful Sculpture of the king of Pop is located in an Australian Park. The 'Smooth Criminal' look with the tie and armband, golden in colour while the when status is white- coloured
5. McDonald's Parking Lot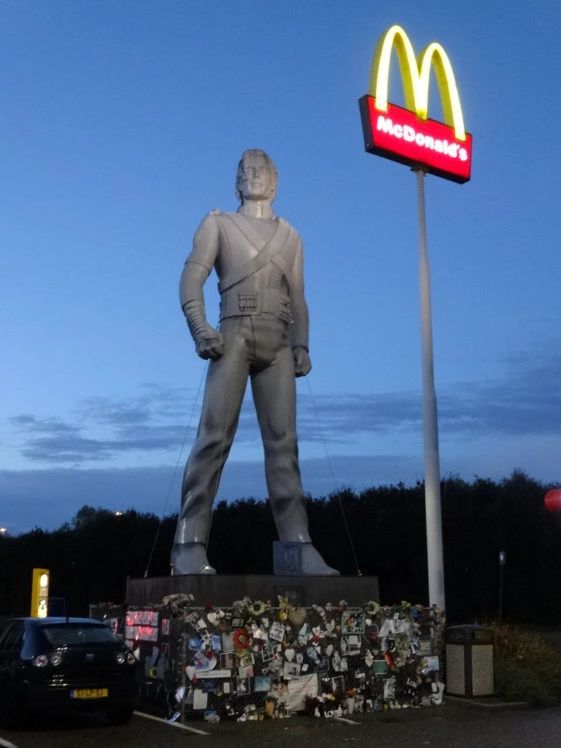 Another awesome status of Jackson is located in the parking lot of McDonald's in the Netherlands. The 32- foot tall status was built and located as a means of advertising the History album. Sony made 8 Statues similar to this for promoting the album. In 2019, the status is no longer as McDonald's decided to remove it
6. Shan Yuan Temple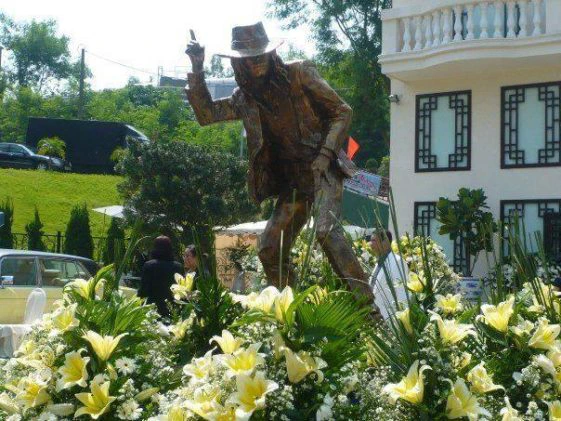 This Michael Jackson's copper status is located in Hong Kong at Shan Yuan Temple. In the late 1980s, Jackson visited China and shared some good moments with celebrities and natives. The unveiling ceremony of the status was attended by Jackson's family.
7. Hard Rock Hotel, Malaysia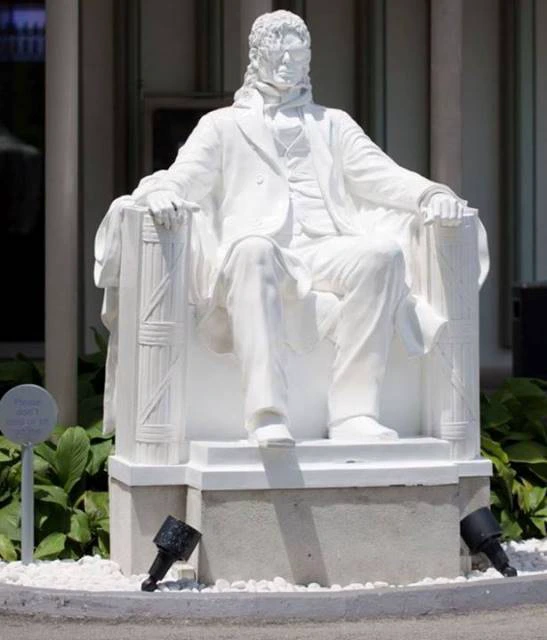 This wonder masterpiece is located at Hard Rock Hotel, this stylish status was created by SCULPTUREARTWORK. The guests and visitors always take pride in their photos taken beside King Michael's status.
8. Brazilian Favela
Recalling ' They Don't Care About Us' music video filmed in a Favela of Rio de Janeiro called Dona Marta, Brazil. This status brings back all the memories Jackson created with the natives. With the outstretched arms, the sculpture isn't exactly like Michael but is a center of attraction for the visitors.