Nzukka People of Nigeria
The question on the origin of Nsukka has generated a lot of debates among scholars. When you meet any elder in Nsukka and ask of the origin of Nsukka, the answer would always be that Nsukka migrated from Idah in Igala. Being that this article addresses this issue which has been of interest to scholars all over the world, I wish to begin by giving a detail explanation of what Nsukka means. By Nsukka, I mean the over seventy ancient states that make up the present Enugu North senatorial zone including Isi-Uzo local government which was carved out to Enugu East Senatorial zone. These communities are what I refer to by using the word, Nsukka.
However, an explanation needs to be made that among these over seventy communities that make up what I call Nsukka, there is actually a community known as Nsukka. It is because the white man made this place his administrative headquarters during colonisation that made them to regard all other surrounding communities as 'Nsukka province.' Those other surrounding communities have been stuck with this name to the present. So, by Nsukka, I mean all of these communities, except Ete in Igboeze North that make up the Enugu North Senatorial Zone including Isi-Uzo Local Government. That does not however, remove the possibility of Nsukka town being isolated, with other towns, for study.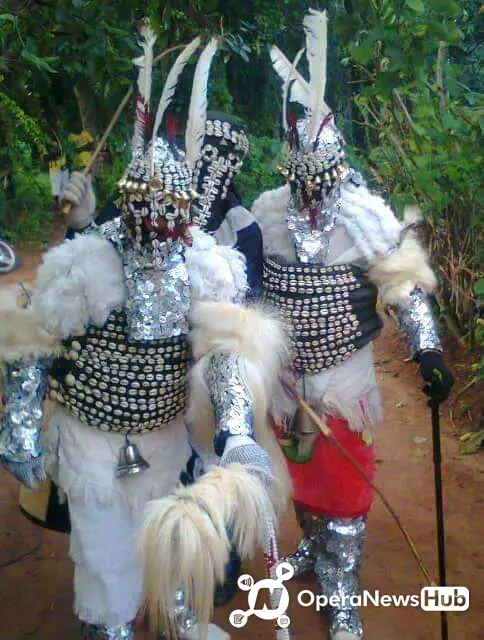 Akatakpa Obollo masquerade
There is however, a remarkable thing about these communities that make up what I will call Igbo Nsukka: they share similar dialects and similar cultural practices that identifies them from other Igbo tribes. When an Nsukka man of any community speaks, the tendency is for the other from another community to understand. However, in a case of difficulty, such one still has the capability to blend to enable the other person to understand. This is, however, not applicable to someone who came up down from Nnobi in Anambra state, it would be a herculean task for such a person to understand Nsukka, yet, an Nsukka person understand everything this Nnobi person speaks. The Nnobi man faces this challenge when an Mbaise, Abakaliki, Ngwa, Ukwuani, Ikwere etc speak in their original dialects. Thus came the saying: 'Igbo na-asu n'olu n'olu' – The Igbo's speaks in varying dialects.
Aside the affinity in their dialects, the Igbo Nsukka people are known for their Odo and Omabe masquerade festivals. These two festivals seem so common that one is not wrong to refer to the Nsukka Igbo's as Igbo Odo and Igbo Omabe. While those north of the region (those closer to Igala and Idoma) do Omabe festival, those at the southern end of the region do Odo festival. These two festivals have great role to play in cracking open the shell that covers the nut we are after. My first point of departure is the appellation given to three and one communities of this Nsukka people. Those three communities that I will isolate as a point of departure in this study are
1. Nsukka
2. Obukpa
3. Okpuje
4. Eha-Alumona
Nsukka as a town is currently called 'Nsukka ASADU Ideke Arumona'; Obukpa is called 'Obukpa ASADU Ideke Arumona while Okpuje is also called 'Okpuje ASADU Ideke Arumona.' The question becomes who is this ASADU whose name dominates some of Nsukka towns.
In my interview with Nkpozi Obeta Nwa Aria (he is still alive), he said that Obukpa, Nsukka, Okpuje and Eha-Arumona are related. He explained that Nsukka, Obukpa and Okpuje are the sons of a man called ASADU. This is where he stopped. In fact, the oral histories of these three communities hold tenaciously to this school of thought. Some scholars have investigated into this matter and many went further to explain that Nsukka, Obukpa and Okpuje are three sons of ASADU Ideke Arumona and that they are related to Eha-Alumona by different father. In other words, Eha-Alumona and Asadu Ideke are two sons of Arumona; while Eha gave birth to only one son, Asadu Ideke gave birth to three sons viz: Nsukka, Obukpa and Okpuje according to their order of seniority. However, the word 'Asadu' has no meaning in Igbo language neither do any Nsukka man knows the meaning. Oral history has it that Asadu was a prince of Igala who had issues with his father and migrated with his children down here in the East. For these oral historians, Nsukka, Obukpa and Okpuje migrated from Idah in the present Kogi state of Nigeria. Idah then was the headquarters of the Igala kingdom where the Attah of Igala had his throne located.
Aside Nsukka, Obukpa and Okpuje, several communities in Igbo Nsukka hold tenaciously to the view that they migrated from Idah, the domain of the Attach of Igala. Let's take Enugu Ezike for instance. Concerning the origin of Enugu Ezike, there are two schools of thoughts but all point towards external migration. The first school of thought is that Ezike or Ejike Oba was the prince of the Oba of Benin who had issues with his father and decided to run away. He left Benin kingdom and headed to Enugwu-Ukwu in the present Anambra state through Asaba. He settled briefly at Enugwu-Ukwu and then continued with his journey through Igabada after crossing the Omambala River until he found his way in Idah, the headquarters of Igala kingdom. He settled there with the inhabitants and hunted games with them. One day, he shot his arrow at an elephant; the elephant staggered and staggered making fast rigmarole movement to escape. Ezike Oba followed it all the way from Idah, to Odoru, to Agbokete, to Ekoyi grove at Ibagwa-Ani until the elephant reached at Ugwueka Hill at the present Amube village of Enugu Ezike and then slumped and died. The Attama (priest) of Ugwueka Hill saw him there and gave him land to settle on that Ugwueka Hill. Ezike Oba gave him some portions of the meat, he also reciprocated with his own gifts. It was said that being that the Attama Ugwueka could not pronounce Ezike's full name, he would tell his children when he wanted to send a gift to Ezike to take it to onye Elu ugwu (he that dwells on the hill) being that Ezike lived on the hill and hence came the name Ndi Elugwu-Ezike or Enugu-Ezike in the Central Igbo to refer to Ezike Oba's descendants as the people that lived on Ezike Hill. Ezike Oba and the Attama Ugwueka became friends that Attama Ugwueka had to find a wife for him from Iheeka. The name of the woman was Nogbo Omogbo. Nogbo Omogbo was a daughter of Ekoyi Ikojo of Iheeka. She bore for Ezike Oba four sons namely
1. Ezeodo
2.Itodo
3. Esodo and
4. Ozzi
These four sons later married and gave birth to the 33 children that make up the 33 villages of the current Enugwu-Ezike. Space will not suffice to mention these 33 villages but the people of Amube where the Ugwueka Hill was and is still located are parts of the villages that make up the sons of Ezike Oba.
The second version is also similar the first; just a slight difference. The second version of Enugu Ezike's origin states that Ezike was a man from Idah who traveled all the way from his place at Idah hunting until he reached Ugwueka Hill at Amube. He killed an elephant there and on the process, met the Attama Ugwueka who made him friend. There Ezike married and had his four sons, Ezeodo, Itodo, Esodo and Ozzi. They also married and gave birth to thirty three children all together. Currently, Amube takes the position of the eldest village in Enugu Ezike as being the first to occupy the area.
Aside these stories of Nsukka, Obukpa, Okpuje and Enugu Ezike, a good number of the communities of Igbo Nsukka trace their origin, in one way or the other, to Idah. Space will not accommodate narrating the histories of each particular community of Igbo Nsukka but whenever the need arises, I will highlight any relevant to the present study.
The question becomes, 'these stories of Nsukka migrating from Idah, are they true?' This question is not out of place considering that Igbo Nsukka has boundary with Igala and yet, no man from Igbo Nsukka understands Igala save s/he that has lived in Igala. However, there are Igala traces that can be glaringly seen in Nsukka; for instance, most expressions in Nsukka has 'Attah' attached to them such as 'Dikpa Attah' (Dignified man), 'Orukpo Attah' (Dignified woman), Ehg'al Attah' (Dignified young man) 'Al' bu al' Attah' (the land belongs to Attah) and such similar expressions. Aside these, the Nsukka people bear such names whose origin and meaning are Igala. In other words, a handful of names Nsukka people bear are Igala names. Such names are Attah, Okanya, Ogili, Idoko, Onoja, Ugbabe, Asadu etc. Are these things not glaringly evidence suggestive of the fact that the people of Igbo Nsukka migrated from Igala? This article addresses this question and sets to unleash a great revolution in the history of Igbo Nsukka.
The first move to addressing this issue is to trace the earliest history of all these Nsukka communities to the remotest to come out with a remote finding that will solve this problem of migration. My place of departure in this regard is Obukpa, one of the said three sons of Asadu. Obukpa has to be my first place of departure because I am from Obukpa, born and brought up there and was quite exposed to the ancient knowledge of my town through interview with the elders and other documented histories. Obukpa is currently called Obukpa Asadu, however, before the 19th century, no man ever identified Obukpa as Obukpa Asadu rather, Obukpa was called Obukpa Nneumukwome. This is documented by D.C.Ugwu who came out with his research and published his findings far back in 1987. It should be noted that Hon. D.C Ugwu was born in the late 19th century who witnessed some of these changes and had the opportunity of interviewing those elders born in the 19th century, those elders who were the ones that engaged in Obukpa's war of territorial expansion that ended in 1904 when the British expedition ironed it out with Obukpa warriors. The elders I interviewed also corroborated this fact that Obukpa was called Obukpa Nneumukwome. Who is Nneumukwome? Nneumukwome is the principal goddess to which Obukpa people attributed their origin to. A trend in most of the communities of Igbo Nsukka was to name their town after one god or goddess which it was believed, owned and protected them from other external bodies; hence, Ovoko Akpurokwe (Akpurokwe is a deity), Ihakpu Okanobara (Okanobara is a deity), Onyohor is Onyohor Eliyi Ugwunye (Eliyi is a deity that has a shrine) etc. Obukpa's full name before the 19th century was therefore, Obukpa Nneumukwome. I could remember while still a little kid and we were playing at our village square, otobo, when an old man from Amube Enugu-Ezike passed by pulling his bicycle. Immediately the man passed by, because our village is the first village when one leaves Ovoko in the North, he seemed to be excited and said, 'Umu Nneumukwome, unu d' oyi?' (Children of Nneumukwome, are you fine?) 'Yes, we answered and being proud that we were identified with the great and revered goddess, Nneumukwome. I was very small then. When we told our parents, they explained more how Obukpa was identified with Nneumukwome. Then all of a sudden, Obukpa started answering Obukpa Asadu, why? Follow me patiently as we dig this out.
Michael Ani Ozioko, in his book, 'Obukpa: Past and Present' explains thus:
'Asadu was taken from Achadu, a dynasty of warlords and hunters that had a very powerful political position in Igala Empire. He led the Igala wars of expedition. He reported directly to the Attah of Igala. In conquered areas, the Asadu was the ambassador to the Igala Kingdom. In Obukpa case the Asadu families were about seven which included Umueko, Nkarashua Ikpa, Nkarashua-Ani, Umugboguru, Ogwashi-Akwari and Amaeze. There were three Asadu families in Obige, three in Ejuona and one in Owerre. They were the ambassadors of of the Atta, as they represented the Atta in the installation of Eze Obukpa. It was they that led the Eze Obukpa to the final initiation by the Atta of Idah. If the Atta had any business at Obukpa in form of visits, he or his staff had to come first to Umueko who happened to be the leader of Asadus from where they moved to the Eze of Obukpa' (p. 148).
D.C. Ugwu explains further in his first page of 'This Is Obukpa' that Asadu was the prime minister to which the Attah of Igala administered Obukpa as well as some other communities through.
It should be noted that for centuries past, the Nsukka region had always been raided by the more organised soldiers of the Attah of Igala. The Igbo's are usually acephalous (having no king) and decentralised. That was why there were over seventy independent ancient states in Igbo Nsukka before the coming of the white man. Obukpa was an independent state, Nsukka was an independent state, Okpuja was an independent state, Ibagwa-Ani was an independent state, Onyohor was an independent state, Ero was an independent states this continued until we had over seventy independent states with defined boundaries and governments making laws and enforcing them in their various territories without any foreign interference. Any external interference often resulted into war. And as is common with the Igbo tradition, these communities often had no king. They were simply ruled by the elders and the subsequent emerging Ama title holders.
Being that we had different mushroom independent states in this Northern part of Igbo land, it was easy for the Attah of Igala to invade and raid here because his empire was large and he had multitudes of soldiers one of whom was ONOJA OBONYI (I have written an article on Onoja Obonyi; you may Google up my article, 'Onoja Obonyi: The Man Who Never Died' for further read). Onoja Obonyi's was feared and revered that he was almost worshiped by the Nsukka people as a demi-god. It was said that he had six fingers each and six toes on each feet. He annexed a greater part of Nsukka land for the Attah of Igala. Achebe Nwando explains in her research on Ahebi Ugbabe of Enugu Ezike that:
'History tells us that at the end of the seventeenth and the beginning of the eighteenth centuries, the Igala controlled the adjacent part of Igboland south of Igala country and that the attah's (king's) power and influence extended south into Nsukka. During this period politically autonomous Igbo groups used the attah's prestige to get their own local title-holders confirmed by his office. However, there seems to be very little in Enugu-Ezike that connects the town with the Kingdom of Benin, except for the appendage of the name Oba to the Enugu-Ezike ancestor Ezike, which in itself does not accord any authenticity to the claim that Enugu-Ezike was connected to the kingdom.'
That the Attah of Igala extended his influence over the Northern Igbo is a fact whose evidenced is supported by both oral and written history both in Nsukka as well as in Igala. Thus, in exercising his influence and control over some parts of Nsukka area, the Attah mounted Asadu (Achadu) to administer on his behalf. An interesting part of this history was documented by John Ogbonna in his book, 'Ama-Inyi Umu-Okwu Ebo from the Nineteenth Century'. Ogbonna wrote:
'The 'Achadu' in Igala which Nsukka and environs pronounced 'Asadu' was a Prime Minister next to 'Atta' and stationed in Nsukka to represent the Atta. He and his soldiers subjected Nsukka and environs to pay respect to Atta. Nsukka people decided to do so to avoid being punished or intimidated by Ata's soldiers. For example, in Nsukka, 'Nwa-ngboto' means grown up lady while 'Eg'ala' means grown up boy. 'Dimkpa' on the other hand means adult male; male (shrine) and so on. In order to show the soldiers that Nsukka people were loyal to the 'Ata' of Igala and to create good relationship with the soldiers so as not to to intimidated or humiliated, they started to add the word 'Ata' to many words spoken in Nsukka dialect. Using the example given above, 'Nwa-Ngboto' was renamed 'Nwa-Ngboto-ata', 'Eg'ala Eg'ala-ata', 'Dimkpa, Dimkpa-ata' and so on' (p. 27-28).
The effect of this Igala's invasion is firmly evidenced in the political cum religious systems introduced in the Nsukka areas and Obukpa in particular. For instance, monarch was introduced to Obukpa by the Attah of Igala who constituted the king makers. Obukpa already existed and villages well established when the idea of monarchy in the form of Eze was introduced. The expression, 'Ngwengwe naru Umunocha Eze' (restlessness deprived Umunocha kingship) gives credence to the fact that the Igalas actually imposed monarchy on Obukpa. Obukpa's oral history has it thata time came when Obukpa was to have a king. The KING MAKERS chose Umunocha as the village that would produce the King of Obukpa. A date was fixed for the coronation of the king and an 'Ekwa' drum was given to them for keep until the day of coronation. They were sternly instructed not to beat the drum until the appointed day. But restlessness couldn't allow Umunocha people; hardly had the King makers left than the Umunocha people started descending on the 'Ekwa' drum beating it in high spirit. The King Makers returned and collected the drums from Umunocha and then the kingship was transferred to Ihe village. The becomes the royal village unto this day. Thus comes the saying: 'Ngwengwe naru Umunocha Eze'. D.C. Ugwu explained that up to recent times, as late as the 1930s the Eze (King) of Obukpa had to travel to the Attah of Igala for blessings and mandate. The last Eze to have travelled to Idah for recognition by and diplomatic relation with the Attah of Igala was Edoga Okanya Ogbaje. D.C. Ugwu described him as almost a 'play boy'.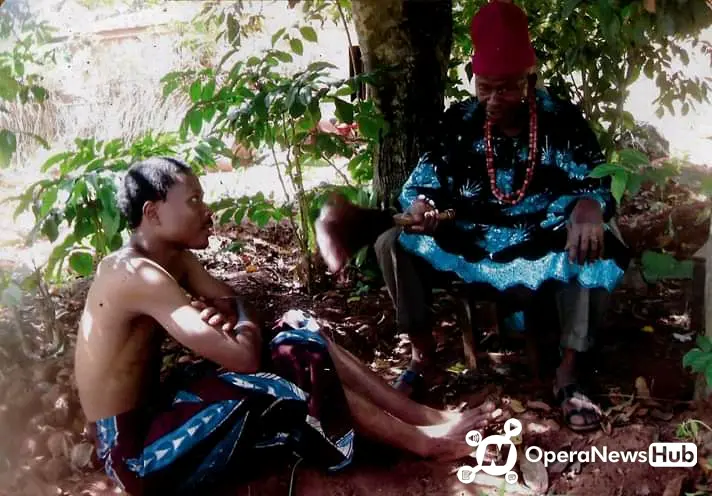 My interview with Nkpozi Obeta Nwa Arua
From the foregoing, it is evidenced that Obukpa started answering Obukpa Asadu because the territory became the domain where Asadu (Achadu) colonised the people on behalf of the Attah. Same was applicable to Nsukka and Okpuje. The glory of the Attah Igala was sang everywhere in Igbo Nsukka that there became an attempt to 'reconstruct' their histories trying to identify themselves with Idah, the headquarters of Igala, the domain of Attah. Obukpa, historians, trying to make their people proud and accord prestige to her, went as far as reconstructng their histories tracing their origin to Idah through Asadu.
The evidence that this history of Obukpa migrating from Idah was deliberately constructed by the Obukpa ancient historians simply to identify with the Attah of Igala is shown glaringly when one studies the origin and migration of individual villages. Obukpa currently is a community of 46 ancestral villages. The history of migration of these villages entirely contradict the unanimous oral belief that Obukpa in general migrated from Idah and was one of the 'sons' of Asadu. A point of departure in this regard is Amozara, my own village. Amozara was one of the founding villages of Obukpa. This is exemplified in the village being one of the principal village in any Obukpa gathering and being part of the few villages that own 'Ishi Maa' (Odo-Ugwu) masquerade during the Omabe festival. I interviewed Odo Nwa Okoro (now late) on the origin of Amozara. There he sat and rested his back on his Ngada seat. 'Amozara migrated from Itchi,' he said and paused a bit. He continued: 'when they reached this soil, they erected an altar of Nkwume-Itchi deity here because Nkwume-Itchi is the principal goddess of Itchi. They erected the shrine here and worshiped it. You can get the shrine when you get to 'Ikpuzuba' behind Arufo Ele's house.' I made further enquiry and Onoyimaja Ugwuanyi told me that Amozara was called Amozara Itchi in the olden days. He confirmed the presence of Nkwume-Itchi shrine. Nkpozi Obeta Nwa Arua also confirmed the presence of Nkwume-Itchi shrine. Mrs. Evelyn Odo explained to me that during the song sang for the Ekwe masquerade that Amozara was sang out, 'Amozara Itchi'. It became full evidenced that Amozara actually migrated from Itchi. Recall that when Itchi sought for Obukpa's military assistance to help them fight Ibagwa-Ani that their appeal was on the basis of 'blood relation' (ne Itchi ne Obukpa bu Nwanne). If then Obukpa migrated from Idah how come Amozara migrated from Itchi?
My interview with Late Odo Nwa Okoro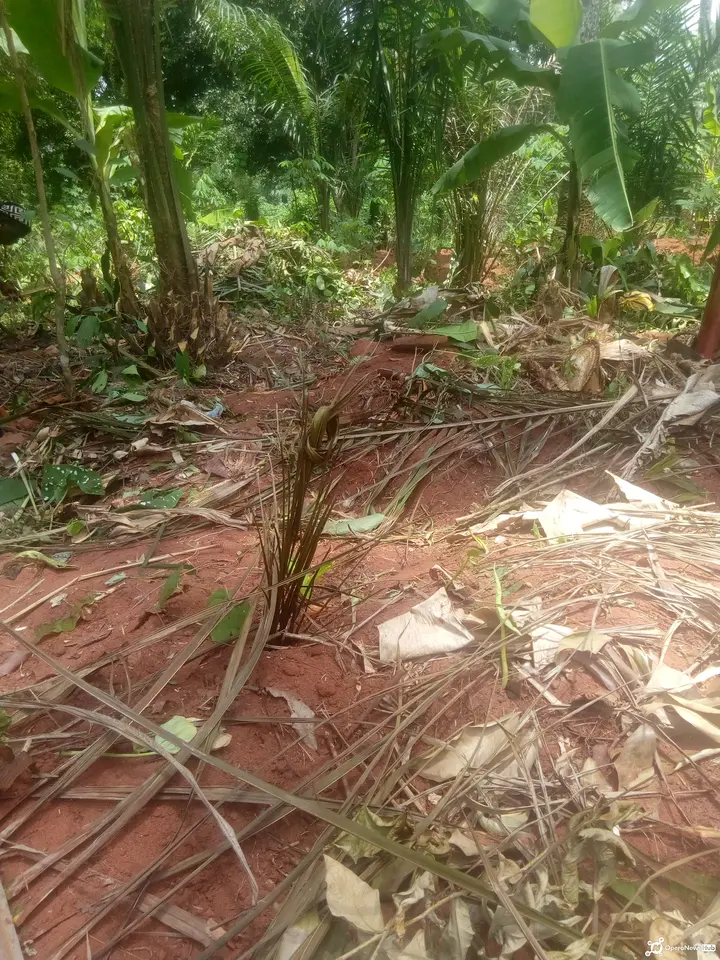 Nkwume-Itchi grove in Amozara-Obukpa
A study of the individual villages that make up Obukpa shows that these villages might have migrated from different quarters to form a federation united by Nneumukwome goddess. Ihe village, for instance, is called Ihe-Ndidiaba, 'Ndidiaba' speaking volume of their place of migration. In Umuokwu village, there are three basic kindreds (umunna) and these kindreds are suggestive of the three sons of the first Umuokwu man. Story has it that the father of Agwude and Aroji migrated into Umuokwu and somehow got assimilated to the inhabitants he met there. A time came when Agwude and Aroji wanted to leave after the death of their father that the Children of Onyeogu, another kindred, begged them to stay so as not to be lonely. They were highly pampered in order to stay to the extent that they were made to be taking a leg of any animal (Eha-Anu) killed at the Area deity first before others were shared. This continued until the late 70s when the men from Onyeogu village finally protested. There is no record of the man migrating from Idah with a group of people as Obukpa. Umuojo village was said to have migrated from Orba (Orba people affirms this story), and Umueko in another oral account was said to have migrated from Uzo-Uwani. Different villages have their different account of migration that to say that Obukpa migrated from Idah in terms of being the Children of Asadu no longer makes sense in view of this glaring evidence.
Aside Nsukka, Obukpa and Okpuje being called after Asadu, there are other communities who somehow, dropped their original surname and picked up the name of the Igala strong man colonising them. Good examples of these other communities are Aku Diewa in Igboetiti Local Government and Obimo Asebero in Nsukka Local Government. Diewa was the administrator who colonised Aku territory on behalf of Attah while Asebero administered Obimo for Attah. However, Attah's influence was mostly felt in the Northern part of Nsukka that shared boundary with Igala. The influence was so intensely felt that religious festivities and masquerade systems were modeled after the Igala religious and political system. Omabe festival 'seems' to be one of these practices modeled after Igala's political system. It seems 'Omabe' was one of the Patriarchs of Igala ancestors (I am still making research in this areas. However, it needs to be pointed out that those areas of Nsukka farther from Igala like communities in Igboetiti do not celebrate Omabe festival but Odo festival. This is an indication that the influence of the Attach of Igala was not intense as it was in the northern borders closer to Nsukka who are currently known as the Igbo Omabe part of Nsukka. Communities in Igboeze North Local Government(Enugu Ezike), Udenu, Igboeze South and Nsukka Local Government areas mostly celebrated and still celebrate Omabe festival. In these Igbo Omabe communities, the chief priest of a deity is called 'Attama' of that deity as against 'Idi' used by communities in Igbo Odo communities. Attama is an Igala word that found its way into Igbo Omabe group. What the Igala call the chief priest of a deity is 'Attama'. It is obvious that Igalas also exercised highly spiritual and mystical powers that marvelled the Nsukka people. In Ezimo, for instance, when the community was threatened by external aggression, sought the assistance of an Igala man who came and created for them a deity to protect them. That Igala man later lived with them and gave birth to sons and daughters that constituted a particular village in Ezimo. That village currently presides over the principal deity of Ezimo called 'Arikpo Ezim'. The village is called Amalogbo. 'Arikpo Ezim' shrine has been destroyed by the Christians. In Igbo land, a priest or a lord is referred to as 'di' or 'idi'. When a man married a woman and paid her bride price, he is referred to as the 'di' or 'idi' of the woman; which means he has become her 'lord' (that's how marriage was seen in Igbo tradition in those days). A man who farmed yams greatly was known as 'di-ji' (lord of yams), a man who was known for hunting games was known as 'di-nta' (lord of hunting), a man who could cure sicknesses with herbs was known as 'di-bia' (lord of sicknesses) etc. Currently in Igboetiti, the priest of any deity is still referred to as 'idi' of that deity instead of 'Attama'. For instance, the current priest of Eliyi is referred to as 'IDI-ELIYI' and not Attama-Eliyi. This shows the limitation to which Igala's influenced was exercised.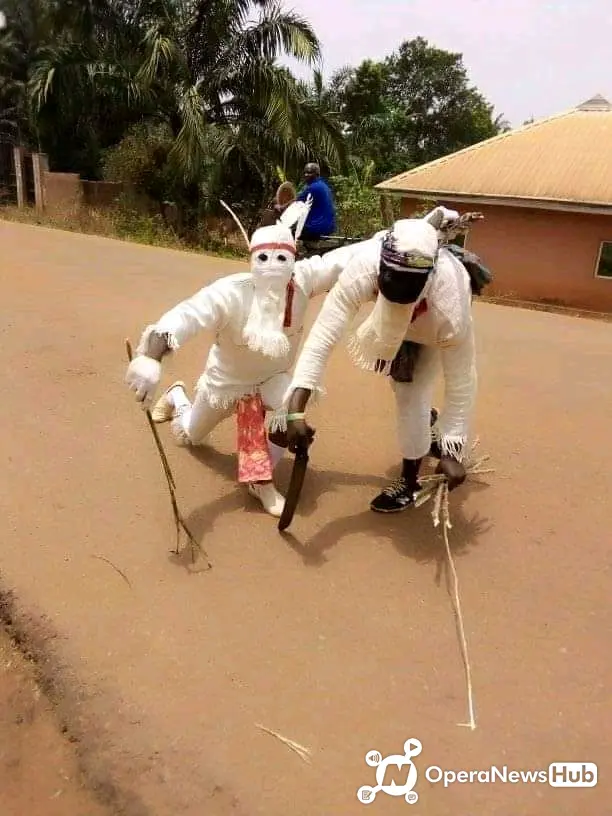 Oriokpa, one of the Omabe masquerades in Nsukka
In summary, Asadu, Diewa, Asebero etc attached to some Nsukka communities is simply a modern name that marks the beginning of Igala's hegemony somewhat on Nsukka territories. These communities already had names they were called after; either their founding patriarch/matriarch (like Ovoko) or the principal goddess of the town like Obukpa Nneumukwome before the coming of Attah and his men.
Some communities in Nsukka seems to have established their origin from either NRI, Awka, Aba etc. There are similarities in the names of these communities with other communities in central, southern and western Igbos. There is Orba in Anambra and an Orba in Nsukka; there is an Itchi in Anambra and an Itchi in Nsukka. Numerous of such similar names across Igbo land exist.