Leverkusen sporting director hoping Utd & Bayern target Havertz stays put
Bayer Leverkusen sporting director Simon Rolfes says Kai Havertz's "future is not decided", and hopes to see him stay put amid links with Bayern Munich and Manchester United.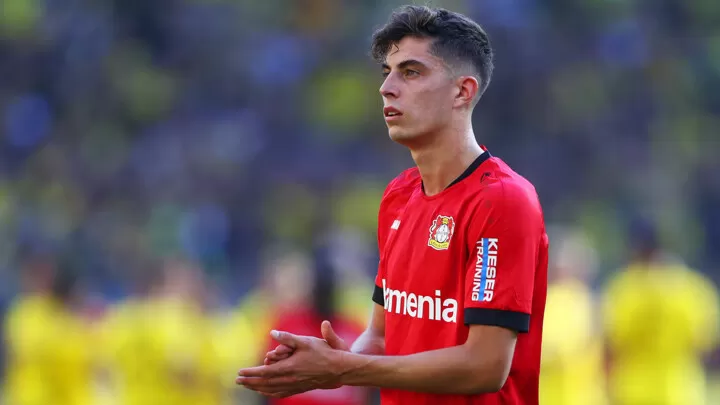 Havertz is attracting attention from some of the world's biggest clubs ahead of the summer transfer window. The 20-year-old is currently enjoying another stellar season at Leverkusen, and seems to have stepped his game up an extra gear since the Bundesliga restart on May 18.
The Germany international has hit five goals in the club's first four outings following the coronavirus-enforced break in the campaign, taking his tally to 15 across all competitions.
United are reportedly keen on luring Havertz to Old Trafford at the end of the season, and Bayern have also been tipped to try and prise a talismanic figure away from their domestic rivals.
Rolfes is aware that "all the great clubs" are keeping tabs on the young playmaker, but remains optimistic that he will choose to remain at the Bay Arena for at least another couple of years.
The Leverkusen chief told Marca: "We don't know yet what will happen to Kai. We know that all the great clubs from Germany and Europe are after him and that he has the ability to play anywhere.
"He is a fantastic player and for many years Bayern have always been behind the young German talents, but we have to wait, there are many factors that influence. His future is not decided at all yet.
"Kai has a contract until 2022 and we are calm. I can only say that I love him and that I like to see him play. I'd like to see him as long as possible with the Bayer Leverkusen shirt.
"I have no preferences when it comes to other teams. He will be one of the great dominators of the game in the next 10 years."
Rolfes added on the qualities which have made Havertz such a sought-after talent in recent seasons: "He is a very complete player and has also shown that he is a good finisher with his head and both feet.
"He is fast enough to play as a striker, but he is also a great No. 10, with creativity and timing. He can also play on the wing, not as a winger, but cutting inside. And yes, being able to score goals pays very well."
'De Bruyne will be weighing up Man City exit'
1 min ago / autty
Kevin De Bruyne will be considering a move away from Manchester City, says Belgium manager Roberto Martinez, with a European ban for the Blues set to impact future calls for many of those at the Etihad Stadium.
Pep Guardiola's side are appealing a two-year suspension from continental action, but are yet to be made aware of a final decision from the Court of Arbitration for Sport in that case.
Uncertainty reigns as a result, with questions being asked of whether ambitious performers on and off the field can be kept in their current surroundings if elite competition is off the agenda.
De Bruyne, as one of the finest playmakers on the planet, is among those to have seen a move elsewhere mooted, with the likes of Real Madrid said to be keeping a close eye on his situation in England.
Martinez concedes that the 28-year-old will be carefully weighing up his options, with thoughts of both an extended stay in Manchester and a fresh start elsewhere likely to cross his mind.
The Belgium boss told beIN Sports of one of his most prized assets at international level: "Kevin is a winner.
"I think he will weigh up everything before his decision. He will take into consideration if there is a ban in the Champions League, if the coach that he has a fantastic relationship is going to stay at the club.
"As you can imagine, this is the moment that a player like Kevin De Bruyne is enjoying his best years and he's given them to Manchester City. But then you think, 'what's going to happen in the next four, five years?' Nobody can give him good advice, the only advice is the one that you feel as a player.
"The last thing you can afford to do is finish your career and say 'I should have moved in that moment, or I should have stayed'. Kevin is very mature and will take everything into consideration.
"Of course, if Man City have a ban he will take that into his decision making.
"Over the years he's shown that if he's happy somewhere he likes to stay and win things. I think it's going to have a major say what happens at the club if there is a ban – what's going to happen with the manager and what's going to happen with [any] future project?"