hundreds says they will deny Minneapolis curfew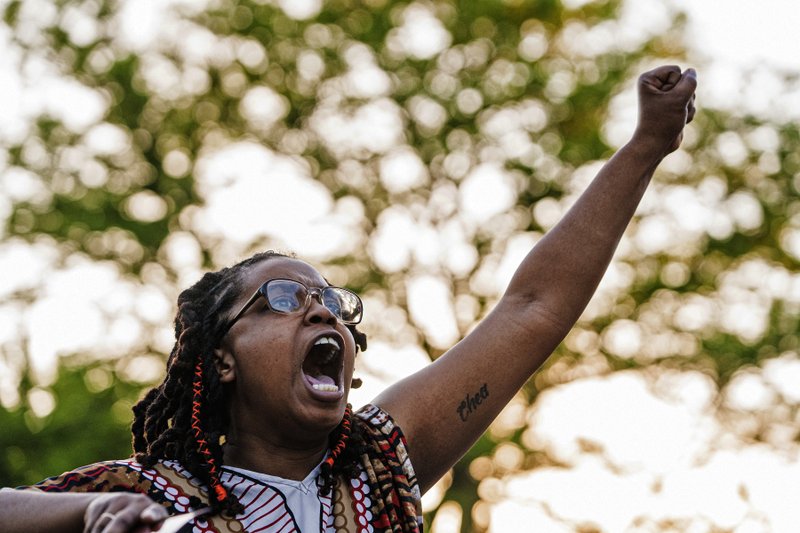 The Latest on the death in Minneapolis of George Floyd, a handcuffed black man who pleaded for air as a white police officer pressed a knee on his neck:
Hundreds of people protesting the death of George Floyd have gathered in Minneapolis near the city police department's fenced-off 5th Precinct as a show of defiance against the 8 p.m. regional curfew.
Twenty-five-year-old Ronnie Tesfa says he is from a suburb of Minneapolis and is participating in the demonstration.
He says many of the protesters initially planned to obey the curfew. But he says that after an hours-long rally for Floyd, they decided to sit down in the intersection.
Tesfa says the action is meant to be a peaceful protest. In his words, "We want to show them that we're not the ones destroying things."
Most of the protesters are holding signs and wearing masks.
___
Curfews are in effect or imminent in more than a dozen U.S. cities facing rising unrest following the death of George Floyd.
The start times Saturday evening range from 6 p.m. in parts of South Carolina to 10 p.m. around Ohio. People are being told to get off the streets beginning at 8 p.m. or 9 p.m. in Atlanta, Denver, Los Angeles and Seattle.
A curfew is in effect for a second night in and around Minneapolis, where Floyd died earlier this week after a police officer pressed his knee on Floyd's neck for more than eight minutes during an arrest. Thousands ignored the Friday night curfew and peaceful protests gave way to violence late into the night.
___
PHILADELPHIA — Authorities in Philadelphia say a peaceful demonstration protesting the death of George Floyd in Minneapolis later turned violence, and at least 13 police officers have been injured amid incidents of arson and store break-ins in the city's doqwntown.
Police Commissioner Danielle Outlaw says at least four police vehicles were set ablaze and other fires were set throughout downtown Saturday afternoon. Protesters smashed windows and stole merchandise from stores as police tried to worked to corral the crowd, which Outlaw estimates numbered about 3,000.
Protesters also sprayed graffiti on a statue of former Philadelphia Mayor Frank Rizzo, tried to topple it and set a fire at its base. Rizzo was Philadelphia's mayor from 1972 to 1980 and was praised by supporters as tough on crime but accused by critics of discriminating against minorities.
Authorities in Philadelphia have ordered a citywide curfew has been implemented from 8 p.m. Saturday to 7 a.m. Sunday.
SALT LAKE CITY — Utah Gov. Gary Herbert has activated the Utah National Guard after protesters angry over the death of George Floyd in Minneapolis turned violent during a demonstration at which some participants carried rifles in Salt Lake City.
Herbert says in a tweet that the Guard will help control "the escalating situation" in the downtown area following the unrest Saturday afternoon.
The protest started out peacefully, but degenerated into violence. A group of people flipped over a police car and lit it on fire. Some demonstrators smashed eggs and wrote graffiti on the walls of the Salt Lake City police station. Others marched through downtown to the state Capitol.
Some people in the protest openly carried rifles, which is legal in Utah.
___
LOS ANGELES — Los Angeles Mayor Eric Garcetti has imposed a downtown curfew for Saturday night after some protests over the death of George Floyd in Minneapolis turned violent.
With protesters were back out Saturday, Garcetti said everyone must be off down town streets by 8 p.m. and stay away until 5:30 a.m.
Several police cars were torched Saturday afternoon as some protesters ignored authorities' call for peaceful demonstrations.
That followed a night of violence during which people smashed windows, robbed stores and set fires. Los Angeles police reported arresting 533 people during the night.
___
SEATTLE — The Washington State Patrol has closed Interstate 5 in both directions through downtown Seattle after a protest over the death of George Floyd spilled onto the freeway.
Thousands of people gathered in the downtown area Saturday for a largely peaceful demonstration, but some protesters turned rowdier as the afternoon worn on. Police used pepper spray on the demonstrators and deployed flash bang devices.
Police said arrests were made but an exact figure wasn't available.
State patrol Chief John Batiste said in a statement that "the freeway is not a safe or appropriate place for demonstration."
ATLANTA — A crowd has gathered in Atlanta to protest the death of George Floyd in Minneapolis and some people have started throwing objects at officers guarding the Georgia governor's mansion.
Hundreds of people stood on a residential sidewalk Saturday evening across the street from the mansion in the city's affluent Buckhead neighborhood. Cars and motorcyclists continued to sporadically drive by in front of the demonstrators.
Authorities responded by taking at least one person into custody.
Gov. Brian Kemp was not inside the home Saturday evening.
Earlier in the day, Atlanta's mayor announced a curfew will be in effect in the city from 9 p.m. Saturday to sunrise Sunday. That order followed a night of violence that erupted in the city during demonstrations over Floyd's death.
___
MINNEAPOLIS — Several Minneapolis City Council members are asking Minnesota Gov. Tim Walz to appoint the state's attorney general as a special prosecutor in the death of George Floyd.
Six of the council's 13 members say they support a call from Floyd's family for Attorney General Keith Ellison to handle the prosecution of the police officer who held his knee on Floyd's neck Monday. The council members say they don't think Hennepin County Attorney Mike Freeman has the public trust necessary for the job.
Freeman on Friday charged now-fired officer Derek Chauvin with third-degree murder in Floyd's death. Chauvin is white; Floyd was black.
The council members say Freeman waited too long in bringing charge. They say Ellison, who is black, is best qualified to handle the case. They also cite a working group he helped lead on deaths involving policeWASHINGTON — Several hundred people shouting "Black Lives Matter" and "I can't breathe" have converged on the White House for a second straight day to protest the death of George Floyd in Minneapolis and President Donald Trump's response.
Trump earlier on Saturday belittled the protesters and he pledged to "stop mob violence."
Speaking in Florida after watching the launch of a SpaceX rocket, the president said: "I stand before you as a friend and ally to every American seeking justice and peace, and I stand before you in firm opposition to anyone exploiting this tragedy to loot, rob, attack, and menace. Healing, not hatred, justice, not chaos are the missions at hand."
Three lines of barricades separate protesters from a loose line of uniformed police officers at Lafayette Park, across from the White House. At one point, the protesters left the park, chanting as they marched up a nearby street. A block from the White House, they held a moment of silence and brief sit-in.